"Nursing is a progressive art
such that to stand still
is to go backwards."
-Florence Nightingale
The World Health Organization (WHO) has designated 2020 as "The Year of the Nurse and Midwife." They are doing so in honor of the 200th anniversary of the birth of the most famous nurse—Florence Nightingale! Both professions play such important roles in healthcare, and WHO has recognized the need for more nurses and midwives in the coming years. By highlighting the work that nurses and midwives do around the world, it is hoped that our profession will get stronger and shortages will be a thing of the past.
So, who was Florence Nightingale? Born in 1820 to an affluent family, she had many "callings" to nursing, which went against what her family thought best for her. As her family tried to steer her away from nursing and into the "married housewife" lifestyle, Florence was drawn even more to helping and healing. This "Lady with the lamp" was a true renegade for the nursing profession. Using principles unheard of at the time, she was passionate about statistics, infection control, writing and communication, and teaching. 200 years later and we are still indebted to the tireless work of Florence Nightingale.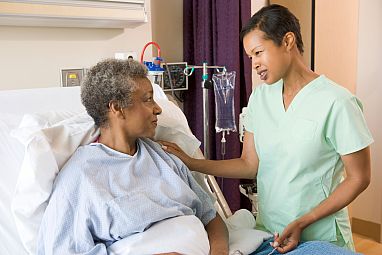 Here at OncoLink, we take immense pride in the work that nurses do and their impact on patients' lives. As corny as it might sound, I was drawn to nursing by this deep-seeded need to just be kind to people. I saw nursing as a way to practice kindness and compassion every day. And if I could help them on their physical health journey as well, then even better! Those "callings" that Florence Nightingale might sound crazy in today's world, but I definitely can relate. I didn't have the confidence or maturity to go into nursing as an undergrad, but I could never shake the feeling that I was supposed to be a nurse. It sounds great and grand now, but back then, I was only worried that here I was at 22 years old, with a Bachelor of Arts degree and building debt, looking to completely change direction and try something at which I might fail horribly.
Luckily, it worked out for me, but that has a lot to do with all of the nurses that came before me… including Flo! During nursing school, we would celebrate Flo's birthday in the student lounge. It was a little tongue-in-cheek, but the truth of it was that many of the same lessons we were learning were introduced and shaped by her early work. Many nursing programs end their graduation ceremonies with the "Nightingale Pledge," which, while not written by Flo herself, gives nurses the chance to start their career with her lasting wisdom: "I shall do all in my power to maintain and elevate the standard of my profession… I shall be loyal to my work and devoted towards the welfare of those committed to my care."
The OncoLink team, especially our nurses (Carolyn, Maggie, Karen, and myself) love hearing how nursing has impacted your life… whether it be as a patient, a caregiver, or as a nurse yourself. Throughout 2020, we will highlight stories of nursing in a blog series to celebrate the year of the nurse and midwife!
---
Marisa worked at the Hospital of the University of Pennsylvania on a medical-oncology unit for several years. She then worked as an outpatient infusion nurse in Cherry Hill, NJ, and currently works per diem as a home hospice nurse. She also has her Bachelor's degree in English Literature from the University of Scranton, where she played basketball and made many lifelong friends. Originally from Philadelphia, she now resides in Mt. Ephraim, NJ. She spends her free time either in Cape May, skiing in the Poconos, or spending time with her family and friends- including her dog Peanut.