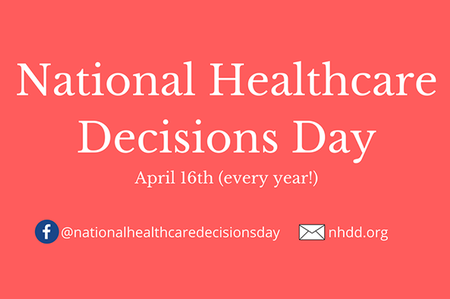 Today is National Healthcare Decisions Day (NHDD). I've written blogs about this day for the last several years. NHDD "exists to inspire, educate and empower the public about the importance of advance care planning." Advance care planning includes thinking about your wishes for medical care should you have advanced illness. It is a process that details who you want to make medical decisions for you in the event you could not make them for yourself. It empowers you to think about what kind of medical care you want if you have a serious illness. For some, advance care planning also includes thinking about things like your will/estate and even child guardianship/custody.
In previous years, I've gotten on my blog soapbox and encouraged my readers to complete their documents, ask their social workers for help, talk to their families about their wishes—I've even had my students complete an advanced directive in my class.
And now, in the face of a pandemic, I'm ready to disclose—that I don't have any of this stuff together for myself.
I've been thinking a lot about it for the last 5 weeks in quarantine. Would I want to be put on a ventilator—before COVID, the answer was always a resounding, "NO!" Now, I'm not so sure.
Who would take care of my dogs? Who would be in charge of what's left—my house, my belongings? How can I make sure my assets and life insurance policy go where and to whom I want them to go with?
Nothing like a good old-fashioned public health crisis to really get this social worker, who for years has helped my patients and their families get their s*it together, to finally pay some attention to my own needs. This, my friends, is my pandemic self-care.
But it hasn't been easy. I have looked online, tried to build a will and other documents, only to be stymied by legal language I don't understand and the need for documents to be witnessed and notarized—not so easy in this time of social distancing. Also, this online document prep is NOT CHEAP.
I won't be foiled by these barriers. My wishes, my desires, my values are too important for that. It's amazing that it has taken a pandemic for me to understand this, despite working with people with advanced cancer for 20 years.
So, on this NHDD, I'm making a vow to get my work done. I may need help along the way—and certainly some creativity to get those witnesses and notarizations done.
Need help getting started with thinking about your wishes for care?
These websites can help:
Want to get started with your medical decision-making paperwork (living will and health care proxy)? The rules regarding witnesses and notarizing vary from state to state. Links to state-specific documents can be found here
Many of my patients really have liked the document "Five Wishes." You can find it here. The cost is $5.00.
An attorney can also draw up a living will and health care proxy/power of attorney for you. Costs for this service vary.
On this NHDD, what are you doing to get your s*it together? And has the COVID-19 pandemic motivated you to get this work done?
Let's start the conversation.