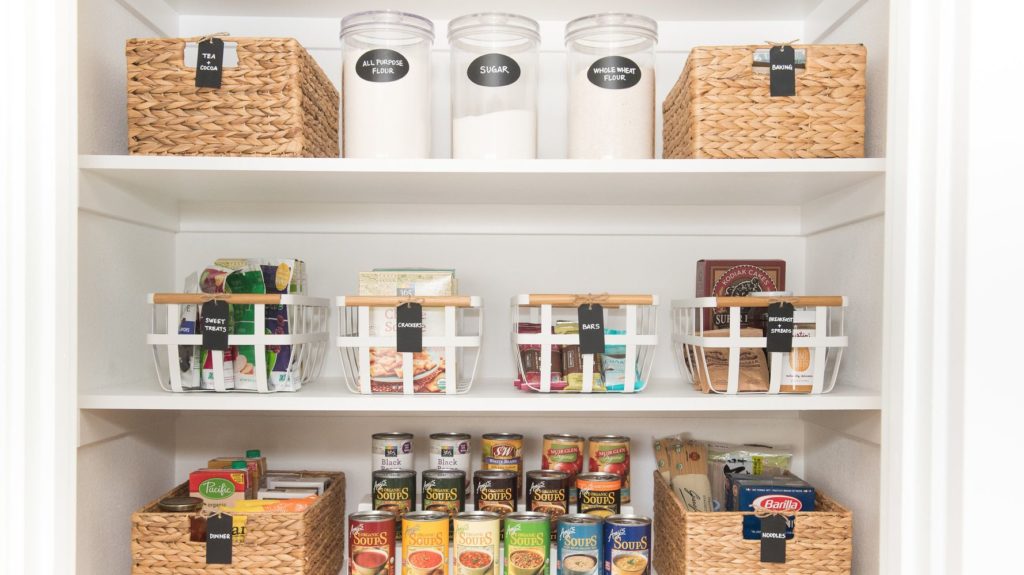 Americans are facing many challenges at the moment. Just one of these challenges is to keep dining at home both interesting and nutritious day after day using what you already have in the pantry or your freezer. Here are a few reminders:
Canned vegetables have received a bad reputation because they are higher in sodium than their fresh counterpart but the total amount of sodium in each can be reduced simply by rinsing its contents in a sieve as part of your preparation process.
Frozen fruits and vegetables are frozen at their peak of freshness offering a big nutritional punch at a fraction of the cost than their fresh counterparts that may be out of season.
Frozen vegetables may be too moist to add on top of a pizza but may be a great addition to top pasta, added to a creamy sauce like blending frozen broccoli into a pesto paste or added to enhance a soup.
Frozen berries can be used in more than a smoothie, they are great as an oatmeal topping or can be used to make jam.
Ready to dive into your pantry and try some new recipes?
ONE PAN DISHES
Zucchini Sheet Pan Pizza
Ingredients
2-3 zucchini.
Fresh tomatoes (plum or salad), 4 OR canned plum tomatoes, cut in half OR  1 cup pasta sauce/tomato sauce.
Olive oil – about 2 tablespoons.
Cheese, shredded (can be mozzarella, cheddar or Monterey Jack or any combo) – 2 cups.
Parmesan cheese, 1/4 cup.
Salt, pepper, garlic powder, Italian herb blend.
Directions
Line the sheet pan with parchment paper, preheat oven to 350 degrees. Lightly drizzle olive oil all over the parchment paper and spread it around to coat the paper
Slice 2-3 zucchini into 1/4″ thick coins and equally distribute on parchment paper 
Salt, pepper, garlic powder, and Italian herbs – sprinkle over the zucchini.
Fresh tomato slices OR canned plum tomatoes cut in half OR jarred pasta sauce – spread over the zucchini.
Shredded cheese – whatever you have on hand, sprinkle liberally over the tomatoes.
Parmesan cheese, sprinkle over the top if available.
Bake until bubbly and the cheese is melted.
Tangy Glazed Chicken with Vegetables
Boneless chicken thighs, 2 per person or 1 pound  Italian chicken or pork sausage, cut into 2 inch pieces.
4 small potatoes or 2 large potatoes, cut into 2-inch sized pieces.
2-3 carrots, cut into 2-inch lengths.
1 large onion, cut into 2-inch pieces.
Any other root vegetable (sweet potatoes, turnips) or Brussels sprouts, trimmed and cut in half.
Olive oil, about 2 tablespoons but may need more.
Dijon Mustard, 2 tablespoons.
Aged Balsamic Vinegar, about 2 tablespoons.
Dried Thyme, 1/2 teaspoon.
Garlic powder, 1 teaspoon.
Salt and pepper to taste.
Directions-
Preheat oven to 350 degrees Fahrenheit
1. Line a sheet pan with parchment paper, lightly drizzle olive oil all over the parchment paper and spread it around to coat paper
2. Salt and pepper boneless chicken thighs and arrange on a sheet pan
3. Cut potatoes, carrots, onions, and any other root type vegetables into uniform bite-sized pieces and spread around the chicken thighs
4. Mix 2 tablespoons Dijon mustard with 2 tablespoons aged Balsamic Vinegar, garlic powder, some salt and pepper, and some dried thyme. Mix well and drizzle over the chicken and vegetables. make sure every piece has some sauce. Make more if not enough to cover all items
5. Bake for about 45 minutes and then check the chicken thighs to be sure they are cooked all the way through. the vegetables should be tender and browned nicely.
* Sausage can be substituted for the chicken thighs.
SOUPS
Savory Moroccan Soup
From Women's Health Magazine (January/February 2010)
Prep Time: 8 minutes
This delicious recipe is low in fat and rich in cancer-fighting ingredients like tomatoes, chickpeas, artichokes, herbs, spices, and whole grains, but my favorite thing about this recipe is that it is quick and easy, which is perfect if you don't have a lot of energy or time.
Cook time: 15 minutes
Servings: 4
Ingredients:
●        3c low-sodium chicken or vegetable stock.
●        1 can (14.5 oz) no-salt-added diced tomatoes with juice.
●        1 cup zucchini, sliced into half circles.
●        1 cup canned chickpeas, rinsed and drained.
●        4 artichoke hearts, cut in half (frozen or packed in water and drained).
●        ½ cup whole wheat couscous.
●        1/4cup fresh parsley, chopped (or 1 tablespoon dried parsley).
●        1/4cup raisins.
●        2 scallions, thinly sliced (including green tops).
●        ¼ teaspoon cinnamon.
●        ¼ teaspoon cayenne.
●        ½ teaspoon dried basil.
●        ½ teaspoon dried oregano.
Directions:
Bring stock plus 1 cup of water to a rolling boil. Reduce heat, add remaining ingredients, and simmer uncovered about 5-7 minutes. Add salt and pepper to taste and serve
African Peanut Soup'
Recipe from Old Ways Cultural Food Traditions retrieved from https://oldwayspt.org/system/files/atoms/files/TradDiet_AfricanPeanutSoup_0.pdf, 3/31/20
Tired of peanut butter on toast? Try it in soup!
Ingredients:
●        1 tablespoon extra-virgin olive oil.
●        2 medium-sized onions.
●        2 large red or green peppers, chopped into 1/4 inch dice.
●        6 garlic cloves, minced.
●        1 (28 oz.) can crushed tomatoes.
●        4 cups low-sodium vegetable broth.
●        1/2 teaspoon black pepper.
●        1/2 teaspoon chili powder.
●        2/3 cup extra crunchy natural peanut butter -smooth peanut butter will work too.
●        1 tablespoon fresh cilantro or a 1 teaspoon dried cilantro.
Directions:
Heat oil in a large pot over medium heat. Cook onions and bell peppers until lightly browned and tender, add garlic last, careful not to let it burn. Stir in tomatoes and their liquid, vegetable broth, pepper, and chili powder. Reduce heat to low, uncover, and simmer for 15 minutes. Stir in peanut butter and cilantro until well blended, and serve.
Simple Pea Soup 
Adapted from Nutrition Stripped retrieved from https://nutritionstripped.com/spring-green-pea-soup/, 3/31/20
Serves 6
Ingredients:
●        20-ounce bag of frozen peas.
●        2 cups vegetable stock (low sodium, organic).
●        2 cups of filtered water.
●        1 cup chopped sweet onion.
●        1 bay leaf.
●        1 tablespoon dried mint or 1/3 cup fresh mint, chopped.
●        1 tablespoon dried parsley or 1/3 cup fresh parsley, chopped.
●        2 tablespoons oil.
●        2 teaspoons sea salt.
●        1/2 teaspoon ground black pepper.
Directions:
In a large saucepan add the oil and onion, cook over medium-low heat for 5 to 10 minutes, until softened.
Add the bay leaf, vegetable stock, and water and increase the heat to allow the mixture to come to a boil.
Add the peas and cook for 3 to 5 minutes (very quick-cooking), until the peas are tender. If you're using frozen peas it will only take 2-3 minutes.
Taking the pot off of the heat, add in fresh herbs, salt, pepper, and adjust for seasonings. Remove bay leaf.
Next, pour half of the mixture into the blender (or divide the mixture into thirds) and puree/blend a little at a time until the entire mixture is creamy.
Garnish as you please…a dollop of sour cream or Greek yogurt, fresh cut chives, pumpkin seeds, hemp seeds, or pea shoots.
Enjoy!
SWEET
Fudgy Black Bean Brownies
Recipe from Live Eat Learn retrieved from https://www.liveeatlearn.com/black-bean-fudge-brownies/, 4/2/20
Ingredients:
●        1 (15-oz ) can black beans rinsed and drained.
●        3 large eggs.
●        3 tablespoon flavorless oil, like canola or sunflower.
●        1 teaspoon vanilla.
●        ¼ cup unsweetened cocoa powder.
●        ½ cup sugar.
●        ½ teaspoon baking powder.
●        ¼ teaspoon salt.
●        ½ teaspoon finely ground or instant coffee optional.
●        ½ cup semi-sweet chocolate chips.
●        8×8 or 9×9 inch greased pan.
●        Parchment paper.
Directions:
Preheat oven to 375 degrees Fahrenheit
In a food processor or blender puree black beans into a rough paste. In a medium-sized bowl mix together bean puree, eggs, oil and vanilla extract. In a separate bowl combine your dry ingredients (cocoa, flour, sugar, baking powder, salt, and optional instant coffee). Add the wet ingredients to the dry ingredients and stir in chocolate chips.
Line a baking dish with parchment paper and pour in your batter. Bake for 30-40 minutes, edges should look visibly crisp and the middle should not jiggle when moving the pan. When finished remove from the oven and allow it to cool before cutting. 
Chia Jam
Serves 6
Ingredients:
●        1-1/2 cups frozen berries (mixed, blueberries or raspberries).
●        1-1/2 tablespoon maple syrup, honey or agave.
●        1 tablespoon chia seeds.
●        1 teaspoon vanilla extract.
Instructions:
In a saucepan over medium heat cook berries and maple syrup, agave or honey until tender and mashable (about 10 minutes).
Add 1 tablespoon of chia seeds and continue to cook 2-3 minutes or until the berry mixture resembles a jam consistency.
Remove from heat and blend in vanilla extract
Allow to cool and add to puddings, yogurt, oats, toast or paired with peanut butter for a tasty treat
Refrigerate and use within a week.
Recipe adapted from Kathryn Scarlata obtained from foodandnutrition.org Jan/Feb 2014
---
Audrey Caspar-Clark MS, RD, LDN,  Doris Piccinin, MS, RD, CDE, CSO, LDN, and Carly Roop, RD, CSO, MA, LDN are the registered dietitians at the Abramson Cancer Center at Perelman Center for Advanced Medicine who specialize in cancer nutrition and provide information based on sound nutritional therapies to support patients throughout their cancer treatment.