Fruits and vegetables are very beneficial to a healthy diet. Read on to learn more:
How many servings a day?
2 ½ cups of vegetables/day and 2 cups of fruit/day
1-2 servings of fruit daily and 3-5 servings of vegetables daily – some raw and some cooked
Variety (hint: eat the rainbow). Challenge yourself to see how many different varieties you can eat each week!
Lower starch vegetables: leafy greens, mushrooms, tomatoes, beets, cruciferous vegetables, summer squash and zucchini, celery, asparagus, artichokes, pea pods, radishes, turnips, green beans, onions
Colorful fruits: Berries, citrus fruits, pomegranates, apples, kiwi (did you know you can eat the skin) and avocado (a fruit) are great sources of vitamins, minerals and fiber
If you are looking for ways to add some calories to your diet, include more of the starchy vegetables like sweet potatoes, white potatoes, corn, and peas.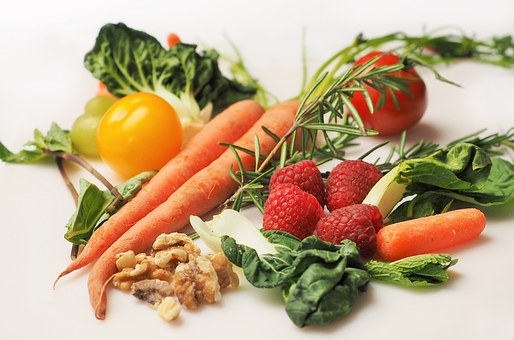 Leafy greens:
Leafy green vegetables contain a range of nutrients and bioactive compounds including vitamin E and K, lutein, beta carotene and folate.
Phytochemicals, Anti-oxidants, Fiber, Vitamins, and Minerals
1 serving per day of leafy green vegetables may reduce cognitive decline compared to folks who rarely or never eat leafy green vegetables*
Brassica vegetables aka cruciferous vegetables:
Rich sources of antioxidants, sulfur containing phytochemicals (glucosinolates), nutrients (vitamin C, vitamin K, vitamin A, potassium) and fiber. May help reduce inflammation.
Versatile and available all year round – at least 375 different varieties.
Because cooking can reduce the amount of some of the glucosinolates and vitamin C, lightly steaming will help preserve more of these compounds.
Many of the cruciferous vegetables can be eaten raw: radishes, daikon, arugula, watercress, mizuna, and cabbage.
Add to smoothies, use in stir-fries, soups, slaws and salads. Roasting Brussels sprouts and cauliflower mellows the flavor. Steamed collard greens can be used for a low carb wrap for a sandwich
Getting the recommended amount of vegetables in your daily diet is a challenge you can easily conquer. Don't forget to eat a mix of raw and cooked vegetables to get the most out of your diet!
*Resource: https://www.npr.org/sections/health-shots/2018/02/05/582715067/eating-leafy-greens-daily-may-help-keep-minds-sharp
---
Audrey Caspar-Clark MS, RD, LDN received her M.A. in Nutrition Education from Immaculata University in 2009 and her B. S. in Nutrition from Immaculata University in 2000.  She holds an active certification as a specialist in oncology nutrition (CSO) and works as an out-patient oncology dietitian at the Hospital of the University of Pennsylvania and the Abramson Cancer Center, a large urban cancer center treating upwards of 6000 patients yearly. She is a frequent provider of nutrition related education at oncology conferences, patient support groups, and community health programs; as well as providing educational sessions for staff. Some of her interests include cooking and preserving foods, sustainable agriculture, equity in health care and food distribution, and animal welfare.