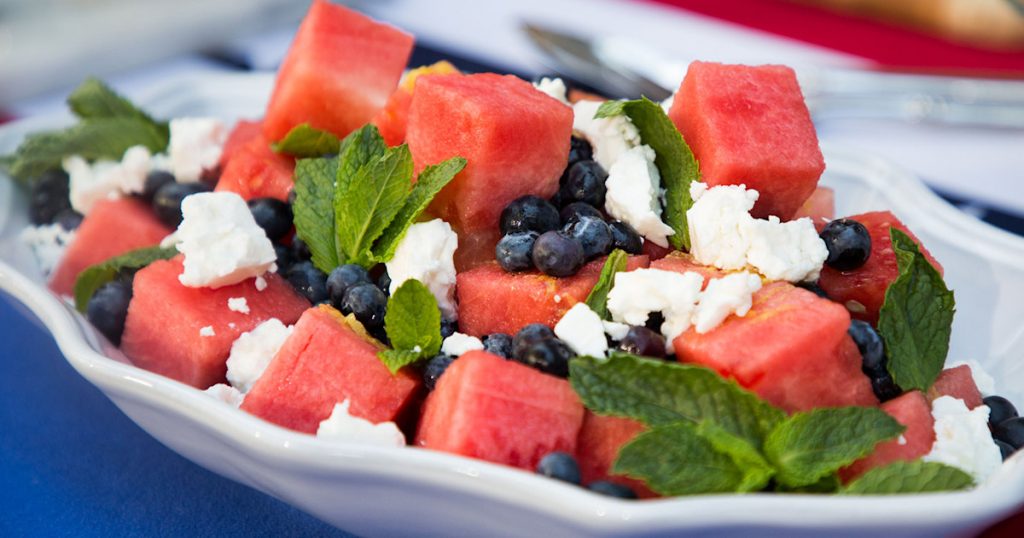 If there is one fruit the screams summer to me, it's watermelon.
I have fond memories of summer picnics, seed spitting contests and fancy fruit baskets carved out of watermelons.
Grab one today at the store (now seedless varieties are available!) and whip up this tasty watermelon salad. This is a very refreshing and great light summer salad – especially when you bought the watermelon and need to use it up! Watermelons are not only high in vitamins A and C as well as lycopene – the carotenoid found in tomatoes. Actually, 1 cup of watermelon has the amount of lycopene that is found in 2 tomatoes.
Watermelon Salad
Serves 4 Prep time: 10 min.
Ingredients:
3 cups chopped watermelon – ¾" cubes
1 cup chopped cucumber – ¼" chunks
½ cup crumbled Feta
2 Tbs. chopped fresh Mint
2 Tbsp. Balsamic Vinaigrette Dressing
Procedure: Combine all ingredients.
If you have a commercially prepared Balsamic Vinaigrette dressing that you like, you can use that.  Otherwise, make your own with 1 part balsamic vinegar to 2 parts olive oil, salt, and pepper to taste.  So for 2 Tbs. of dressing, that would be 2 tsp. of vinegar to 4 tsp. of olive oil.  Best served when the watermelon is chilled!
Source: http://www.athenos.com
---