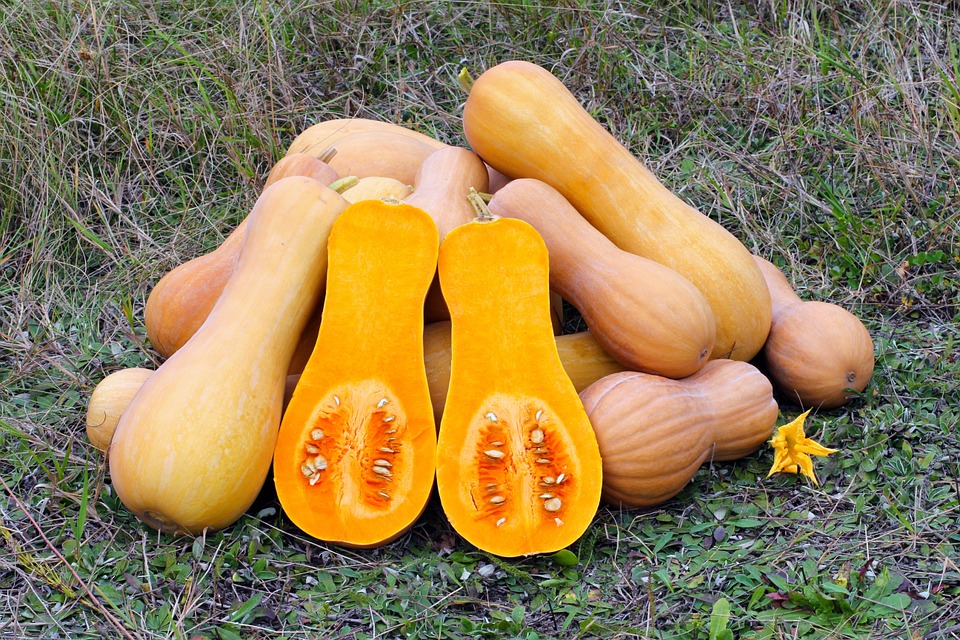 As we move into fall, grocery stores and farmer's markets are moving beautiful, health-filled butternut squash to their produce sections! When I saw this recipe from our nutritionists, I realize this also is a perfect fall recipe for those of us who also love, love, love macaroni!  Pasta plus vitamin-packed squash….that is a great idea.
Did you know that butternut squash is one of the most nutritious and healthiest vegetables you can eat, with a rich array of vitamins, minerals, and antioxidants as well as significant amounts of digestive fiber? It not only tastes great, but it is also low in calories, yet surprisingly filling.
Butternut squash is also a good source of vitamin E, thiamin, niacin, vitamin B-6, folate, pantothenic acid, and manganese. A cup of cubed butternut squash also provides 582 mg of potassium, more than the amount available in a banana.
So, try it out! It may be a great way to add some of the nutritious value of butternut squash….and another way to add veggies for your kids!
Butternut Squash Macaroni Casserole
Prep Time: 10 minutes if butternut squash is cooked, if not 30 min.
Cook time: 30 minutes
Servings: 8
Ingredients:
2 tablespoons olive oil
1 large yellow onion, thinly sliced
1 butternut squash (about 2 lb.), peeled, seeded and cut in 1" cubes
1 can coconut milk
Salt and pepper to taste
1 tb. Chopped sage
¾ lb. dried elbow macaroni
½ cup chopped walnuts
½ cup bread crumbs
Instructions
Preheat oven to 350 degrees F.  Lightly oil a 9×13" casserole dish; set aside.
Heat oil in a medium pot with the heat on medium.  Add onions and cook, stirring often until soft (5-7 minutes).  Add squash, coconut milk, salt, and pepper and bring to a boil.  Cover, reduce heat to medium-low and simmer until squash is tender about 20 minutes.  Stir in sage and simmer for 1 more minute.  This part can be made ahead, up to 1 day in advance.
Meanwhile, bring a large pot of salted water to a boil. Add macaroni and cook until tender but still firm (about 8 minutes). Rinse in cold water, drain well and transfer to a large bowl. Transfer squash mixture to bowl with macaroni. Add walnuts and toss to combine. Transfer to prepared dish and top with bread crumbs. Bake until golden brown and hot (about 30 minutes).
Nutrition per serving: 400 cal, 21 grams of fat, 5 grams of fiber, 9 grams of protein
Special tip: To save time, bake butternut squash whole when you have the oven on for any other reason.  If butternut squash is already cooked and soft, you can save 20 minutes by blending the first 6 ingredients with an immersion blender.  This makes a very creamy sauce.
Recipe from Whole Foods Market
---
Debra DeMille, MS, RD, CSO has held the position of Nutrition Counselor at the Abramson Cancer Center at Pennsylvania Hospital since 1999.  Her training includes a bachelor's degree from the University of Illinois and a master's degree in Health Administration from St. Joseph's University.  She has been a registered dietitian for many years specializing in oncology nutrition for over 20 years.  Ms. DeMille conducts cooking programs for cancer survivors which feature cancer-fighting foods that are in season.
Abby Wetzel is an oncology nutritionist with 10 years of experience. She supports patients going through chemotherapy, radiation, and surgery. She is a member of the supportive care team and survivorship leadership team at the Abramson Cancer Center at Pennsylvania Hospital. Her practice focuses on working with individuals with breast cancer, sarcoma, gynecologic cancers, gastrointestinal cancers, and melanoma.