While the temps may still be in the 80's, apple season is upon us! Give this Apple Bok Choy salad a try! It is easy, healthy and oh so yummy. It is also a good transition into fall salad.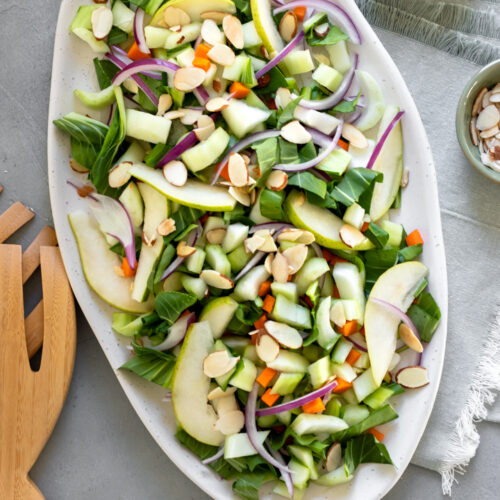 Prep Time: 20 minutes slicing and dicing time
Servings: 2 hefty portions
Ingredients:
6 cups finely chopped bok choy
1 large apple, cored and shredded
1 large carrot, shredded
½ cup chopped red onion
½ cup unsweetened soy or almond milk
½ cup raw cashews
¼ cup balsamic vinegar
¼ cup raisins
1 tsp. Dijon mustard
Directions:
Combine bok choy, apple, carrot, and chopped onion in a large bowl. Blend soy milk, cashews, vinegar, raisins and mustard in a food processor or high-powered blender. Add desired amount to chopped vegetables.
Nutrition per serving:
375 calories, 16.5 gm. Fat, 8.3 gm. fiber, 10 gm. Protein
Source: Super Immunity by Joel Fuhrman, MD
---
Debra DeMille, MS, RD, CSO has held the position of Nutrition Counselor at the Abramson Cancer Center at Pennsylvania Hospital since 1999. Her training includes a bachelors degree from the University of Illinois and a master degree in Health Administration from St. Joseph's University. She has been a registered dietitian for many years specializing in oncology nutrition for over 20 years. Ms. DeMille conducts cooking programs for cancer survivors which features cancer fighting foods that are in season.
Abby Wetzel is an oncology nutritionist with 10 years of experience. She supports patients going through chemotherapy, radiation and surgery. She is a member of the supportive care team and survivorship leadership team at the Abramson Cancer Center at Pennsylvania Hospital. Her practices focuses on working with individuals with breast cancer, sarcoma, gynecologic cancers, gastrointestinal cancers and melanoma.