This blog is the second in the series Demystifying Mindfulness." I'm hoping I can help us all understand a little bit more about the practice of mindfulness, how it can be helpful and how we can integrate it into our lives.
---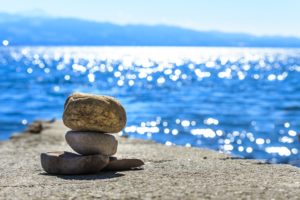 In my last blog, I explored the diverse descriptions and definitions of mindfulness. I hope I left you with an idea that there is a fair amount of room to practice (and essentially) define mindfulness in a way that is meaningful and purposeful to you. What works for me in helping me to "be in the moment," may not work for you. The key is to explore various techniques of mindful practice to find something (or things!) that work for you.
Equally important is talking about what mindfulness IS NOT
Mindfulness can't fix everything. Sometimes we need help from professionals to help us work through life's tough moments.
Mindfulness isn't magic. It takes time, dedication and practice to incorporate into your life and make it meaningful. It shouldn't feel like an obligation, but should be something we strive to be part of our activities, like showering or getting dressed in the morning. While those things feel routine, they also require work. And sometimes, we won't enjoy the work. It's not easy to give ourselves space and permission to address things in our lives that are troubling us. If you feel uncomfortable with thoughts and emotions you are experiencing during mindful practices, it may be time to ask for professional help.
Mindfulness isn't necessarily religious or spiritual.  Mindfulness pulls some of its principles and practices from many different spiritual belief systems, but you don't need to be religious or spiritual to be mindful.
Mindfulness practice won't necessarily change how we think about things or get rid of feelings we have that we are struggling with. It will help us to be aware of our thoughts and feelings and how they impact our actions, behaviors and physical well-being.
Mindfulness isn't just meditation. While most of us might go right to meditation when thinking about mindfulness, there are many other ways of practicing mindfulness. We will explore things like mindful eating, exercise, music, crafting and yoga in other blogs in this series.
Mindfulness shouldn't stress us out. Our practice should be intentional, curious, fun and engaging. If we feel obliged to be mindful, it will be hard for it to be something we truly want to incorporate in our lives. Thus, we should find a way (or ways) that mindfulness practice works for us. For some that may be meditating, for others it may be writing. The key is to chart your own course.
So, now we should have a better sense of what mindfulness is and isn't, as well as potential ways we can incorporate it into our lives. The next two weeks of the series will focus on meditation. I've partnered with a friend and we are meditating everyday using two different meditation apps. We can't wait to share our experiences with you.
---
Christina is a clinical oncology social worker who joined the OncoLink team in 2014. Christina blogs about resources available to the cancer community, as well as general information about coping with cancer practically, emotionally, and spiritually. Christina is an avid knitter and spends a great deal of time posting pictures and stories on social media about her three beagles, Linus, Maggie and Huckleberry. She also loves to travel, cook and is an avid Philly sports fan.