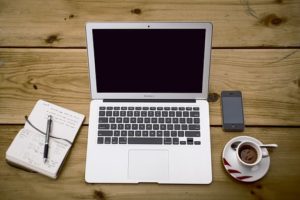 Here's a conundrum: it took me two seconds to decide in my heart that writing for a cancer blog was the BEST IDEA EVER. But it took me a little longer (okay, seven months to be exact but stop judging me, we just met) to put pen to paper. Why?
Part of the answer lies in the fact that I never put pen to paper. I only put "keystroke to computer screen". I prefer the safety of a writing space that offers a healthy and robust "delete button" close at hand. The idea of writing down raw, unedited, honest cancer thoughts that could not immediately be deleted from my screen – instantaneously – was frightening beyond words. Literally.
I believe there is power in the spoken word and finality in the lasting legacy of written text. We are what we feel and we are what we articulate. Writing through my cancer experience felt overly ambitious and lofty if it meant that I had to make sense of it all. If I was expected to find Oprah-worthy aha-moments, share inspirational takeaways and confidently claim that: "the moral of the cancer story is…" then I was screwed.
What if cancer just sucks?
What if I want to share these truths:
Diagnosis feels like you've been hit by a bus. Repeatedly.
Treatment makes the expression "bone-tired" finally make perfect, horrible sense.
Disappointment is hard to shake when friends and family do not always know what to say or do to help.
You get a one-way ticket to Planet Cancer and you never truly return, even after treatment is over.
The end of treatment can be harder than the beginning. Now you are just a waiting target, no longer in 'active duty'.
Who in their right mind wants to hear all of that?
It may be my truth, but it seems a tad too dark to share publicly.
What if Jack Nicholson was right all along? What if:
"We. Can't. Handle. The. (Cancer). Truth."
Sheer bravery – and a tiny, trouble-making, truth-telling voice sitting deep inside me – propelled me through the doorway of Kelly Writers House. It was my first day joining Abramson's "Writing A Life" program. All through my chemotherapy treatment, I had walked right by a poster advertising this program. I would see it on my way to the elevator heading up to the infusion center and then I would pass it again on my way to the cafeteria to pick up ginger ale for the car ride home. I would glance each time at the promising and poetic verbiage about "writing through my cancer journey" and shake my head muttering: "Somebodyshould go do that. Not me. Certainly not right now. But somebodyshould take advantage of that great program."
After finishing treatment, I was quite surprised to discover that my cancer journey did not cease when my chemo infusions ended. I needed support and remembered those posters. I decided to make a pilgrimage to the land of therapeutic writing. I had never taken a writing class, shared my words aloud to a group of strangers or used journaling as therapy. But I was willing to take the plunge.
The moment I stepped inside the cozy, old gothic cottage in the heart of Penn campus, I exhaled. The warm, supportive, safe atmosphere, coupled with the sensitive and masterful group facilitation, put me right at ease. Taking my rickety wooden seat in the writers' circle opened up a part of my heart that had closed in self-protection, a port sealed off cautiously amidst the tangle of transparent IV tubing. I cannot tell you what that day's writing prompt was or exactly what I wrote about. All I can tell you is that it was potently powerful and highly addictive. I was hooked after that very first session. I have never stopped since.
I walked away feeling taller because I had spoken my truth about cancer to others and they had listened, nodded their heads in understanding and openly shared what pieces resonated with them personally. Best of all, they had laughed. The sound of their warm, delicious, knowing laughter filled my empty, lonely spaces and offered me solace and strength.
Walking through campus afterwards to get back to my car, I was filled with a new sense of belonging. A room full of cancer patients (total strangers!) had shared their stories from the trenches together. They heard my words, shared my pain and appreciated my dark humor. I did not need to offer them any golden nuggets or a neat and tidy "happily ever after" or an epiphany about sunsets being more meaningful now. Instead, I could serve up the cold hard truth about what I struggled with, what I loved most, what I feared in the middle of the night, and what I delighted in with reckless abandon. And for that moment, I was part of a community of cancer writers. I had a seat at the table and it was a literary potluck. No meaningful answers were required but serving up a plate of the absolute truth was mandatory, every single time.
Hit the delete button on that one, Cancer. We're taking your game out of the shadows and into center stage, ugly truths and all. Get your bad self ready.
---
Lisa Wise was raised in Montreal, fell in love her husband of 28 years in grad school, is the proud Mom (and student) of fraternal twin sons and currently delights in the pristine, untouched orderliness of her newly emptied nest. As a third generation B-cell lymphoma warrior woman, cancer has always been an integral part of her family legacy but never a defining factor. Lisa has navigated through the palliative care journey with three of her immediate family members and uses the invaluable lessons that she gleaned from those pivotal experiences to inform, shape and guide her work with cancer patients and caregivers. To refresh and recharge, Lisa delights in visiting the ocean, listening to blues guitar, finding healing humor in every day life, and practicing mindfulness meditation. Regular doses of high quality dark chocolate help as well.