Does the cold weather get you thinking about soup? There is nothing better on a cold, snowy day than a warm bowl of soup. This recipe is easy and pretty quick to make, fills you up, and is healthy too. It is a great base- if you don't like the spices I use, use one you like. This recipe shouldn't feel intimidating – it is hard to mess up. I'll include some tips to make it easier or to change it up at the end. I hope you'll give this one a try!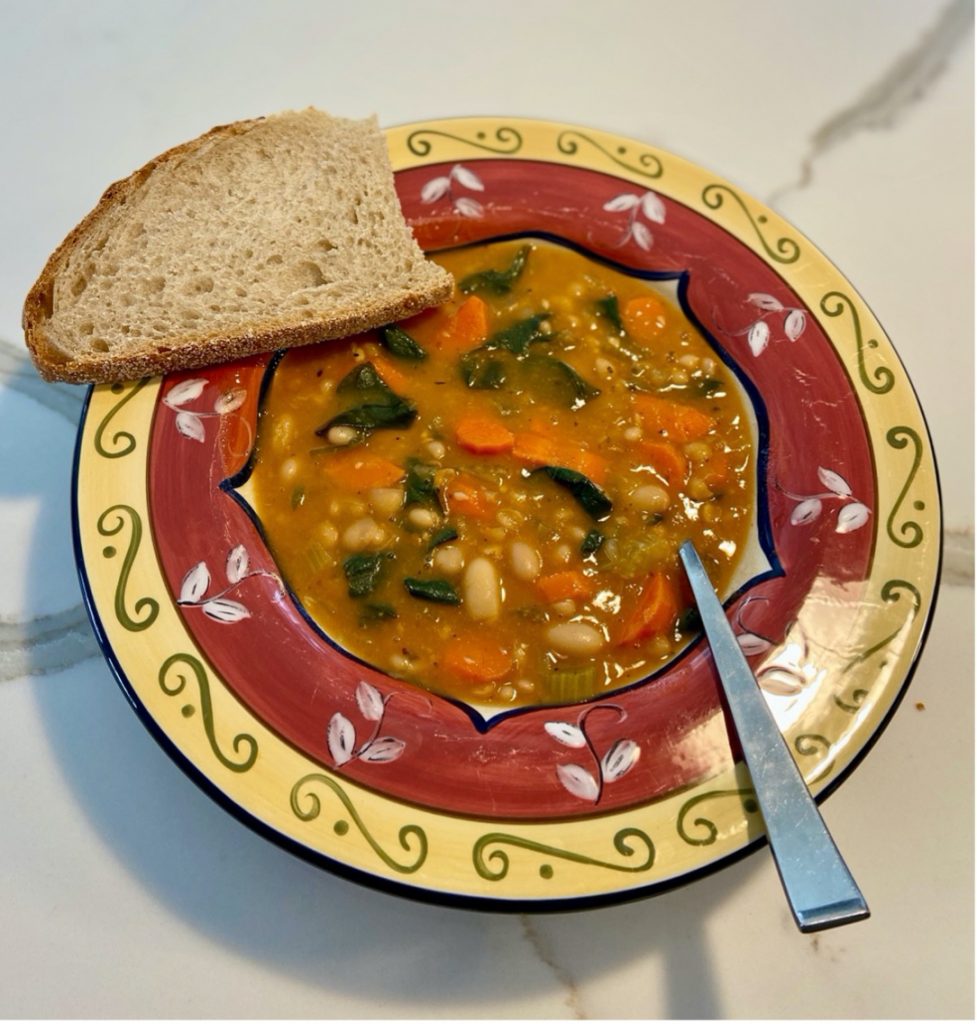 Ingredients
1 onion, chopped
2-3 carrots, chopped
2-3 celery stalks, chopped
6 cups vegetable stock (I use low sodium)
2 Tbs tomato paste
½ tsp oregano
½ tsp Italian seasoning
½ tsp kosher salt
Few pinches of black pepper
Olive oil (or oil of your choice)
2 cans white beans, drained and rinsed
Few big handfuls of fresh spinach (or whatever greens you have on hand)
Directions
In a large pot, heat 2 Tbs oil. Add onion and kosher salt and cook for 3-4 minutes. Add in the carrots and celery and continue to cook another 3-4 minutes.
Add tomato paste and cook for a few minutes. Add in the spices and pepper and stir to combine it all.
Add the broth and beans and stir to combine.
Bring to a boil and reduce heat to simmer for 30 minutes, stirring occasionally.
Stir in the handfuls of spinach and cook until they wilt and you are ready to serve & enjoy.
Tips
If you're looking to save time or don't have the energy for all the chopping, buy pre-chopped onion, carrot & celery.
This is a rustic soup; you can chop your vegetables as large or small as you like. Don't stress about it!
Taste it! Does it need more salt? Add it if it does. You can never go blindly by a recipe- everyone's tastes are different. Season to your liking.
I like my soup a little thick, so I add a corn starch slurry at the end (before adding the spinach). Combine 1Tbs corn starch and 1Tbs cold water, mix to combine. Add this to your soup and bring to a boil to thicken. Not thick enough? Add another round of the slurry!
---
Carolyn Vachani is an oncology advanced practice nurse and the Managing Editor at OncoLink. She has worked in many areas of oncology including BMT, clinical research, radiation therapy, and staff development. She serves as the project leader in the development and maintenance of the OncoLife Survivorship Care Plan and has a strong interest in oncology survivorship care. She enjoys discussing just about any cancer topic, as well as gardening, cooking, and, of course, her sons.