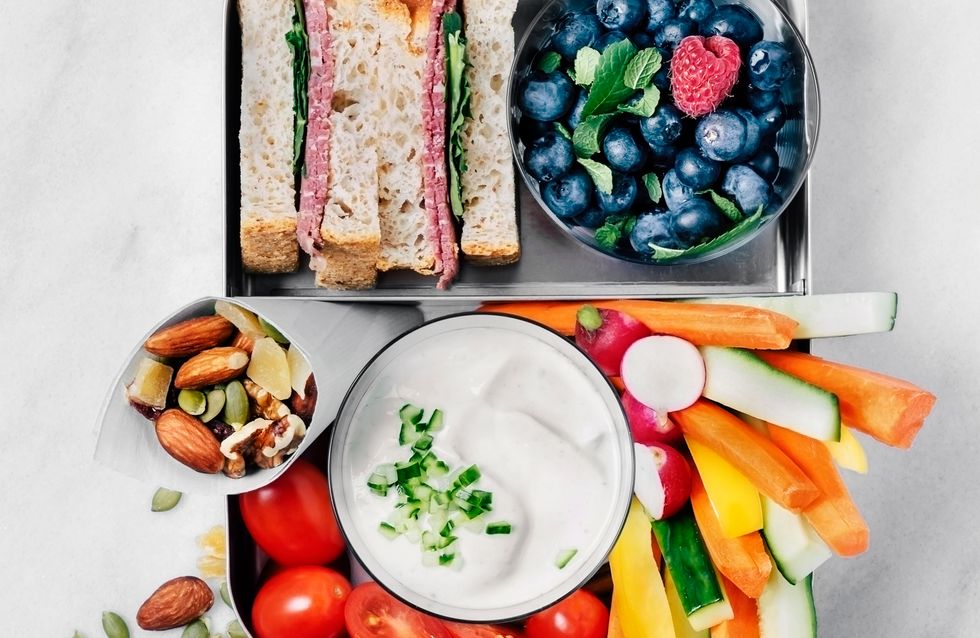 Americans are facing many challenges at the moment. Just one of these challenges is to keep dining at home both interesting and nutritious day after day using what you already have in the pantry or your freezer. Here are some basics tips:
Canned vegetables have received a bad reputation because they are higher in sodium than their fresh counterpart but the total amount of sodium in each can be reduced simply by rinsing its contents in a sieve as part of your preparation process.
Frozen fruits and vegetables are frozen at their peak of freshness offering a big nutritional punch at a fraction of the cost than their fresh counterparts that may be out of season.
Frozen vegetables may be too moist to add on top of a pizza but may be a great addition to top pasta, added to a creamy sauce like blending frozen broccoli into a pesto paste or added to enhance a soup.
Frozen berries can be used in more than a smoothie, they are great as an oatmeal topping or can be used to make jam.
Ready to dive into your pantry and try some new recipes? Here are a few suggestions.
DIPS
Artichoke Dip
This dip makes an excellent mid afternoon snack with vegetables or pita crackers or a great topping for eggs, pasta or baked potatoes. This dip is also tasty added to tuna.
Servings: 2 cups
Ingredients:
● 1 Tablespoon lemon juice
● 2 cans of Artichoke hearts drained
● 2 cloves of garlic
● Pepper and shredded parmesan (optional)
Directions:
Add ingredients into a bowl and blend with an immersion blender. Garnish with freshly cracked pepper and a sprinkle of parmesan.
Beet Tahini Dip
Recipe adapted from Soomfoods.com
Retrieved 04/02/2020
Servings: 2 cups
Ingredients:
● 1 (15oz) canned beets (drained)
● ⅓-½ cup tahini (sesame paste)
● 3 tablespoons lemon juice
● 2 cloves of garlic
● Salt & pepper to taste
● 1-3 tablespoons of water to thin, if thinner consistency is desired
● Pita or vegetable sticks for dipping
Directions:
Add beets, tahini, lemon juice and garlic to a blender, season and thin with water as desired and puree until smooth.
Plate and garnish with a drizzle of olive oil and enjoy!
SALADS & SANDWICHES
Have you run out of canned tuna? A can of chickpeas is all you need to save your lunch.
Chickpea Salad
Adapted from RealSimple.com
Retrieved 3/31/2020
Ingredients
● 1 (15.5-oz.) can chickpeas (garbanzo beans), drained and rinsed
● 1 celery stalk, chopped (about ½ cup)
● ½ cup loosely packed fresh flat-leaf parsley, roughly chopped or 2 tablespoon dried parsley
● 2 tablespoons mayonnaise (preferably made with avocado oil or olive oil), plus more for serving
● 1 small (about 1 oz.) shallot, finely chopped (about 2 Tablespoon) or ¼ of an onion, finely chopped
● 1½ tablespoons fresh lemon juice (from 1 lemon)
● ½ teaspoons Dijon mustard, plus more for serving
● ½ teaspoon fine sea salt
● Freshly ground black pepper
Directions:
Coarsely mash chickpeas in a large bowl with a fork. Stir in celery, parsley, mayonnaise, shallot/onion, lemon juice, Dijon, salt, and several grinds black pepper. Enjoy as desired, either on a salad, between two pieces of toast or on top of pita chips.
Carrot and White Bean Burgers
From Smitten Kitchen
Retrieved accessed on 04/02/2020
Makes 6 (½ cup) medium sized burgers
Ingredients
● Olive oil
● 1/2 cup panko-style breadcrumbs
● 3 shallots, or 1 small onion, diced
● 1 tablespoon tomato paste
● 1 1/2 teaspoons kosher salt
● 1 cup packed grated carrot (from 2 medium carrots)
● 1 1/2 tablespoons apple cider vinegar, or 1 ½ tablespoons lemon juice
● Two 15-ounce cans cannellini or other white beans, drained and rinsed
● 1 large egg, beaten
● Freshly ground black pepper
● Burger accompaniments, as you like
Directions:
Heat 1 tablespoon olive oil in a large skillet over low heat. Add the panko and cook, stirring often, until lightly browned and crisp, 3 to 5 minutes. Transfer crumbs to a large bowl, then return the pan to the heat.
Add 2 tablespoons olive oil to the skillet, followed by the shallot or onion. Cook until softened and lightly golden, 8 to 10 minutes. Stir in the tomato paste, salt, and carrots and stir frequently for another 8 to 10 minutes or until carrots are soft. Add the vinegar or lemon juice. Remove from heat and add the bowl with the toasted panko. Add beans and use a wooden spoon or spatula to very coarsely mash the mixture until a bit pasty and the mixture coheres in places—there should still be plenty of beans intact. Add pepper, and more salt if needed, to taste. Stir in the egg. Shape into 6 patties (you can use 1/2 cup measure as a scoop).
To cook the veggie burgers, heat a thin layer of olive oil in a wide skillet over medium heat and carefully cook until browned and slightly firm to the touch, 3 to 4 minutes per side. Serve hot or at room temperature.
What interesting things have you found in your pantry? Made any new recipes? Share it with the OncoLink team email: [email protected]
---
Audrey Caspar-Clark MS, RD, LDN, Doris Piccinin, MS, RD, CDE, CSO, LDN and Carly Roop, RD, CSO, MA, LDN are the registered dietitians at the Abramson Cancer Center at Perelman Center for Advanced Medicine who specialize in cancer nutrition and provide information based on sound nutritional therapies to support patients throughout their cancer treatment.